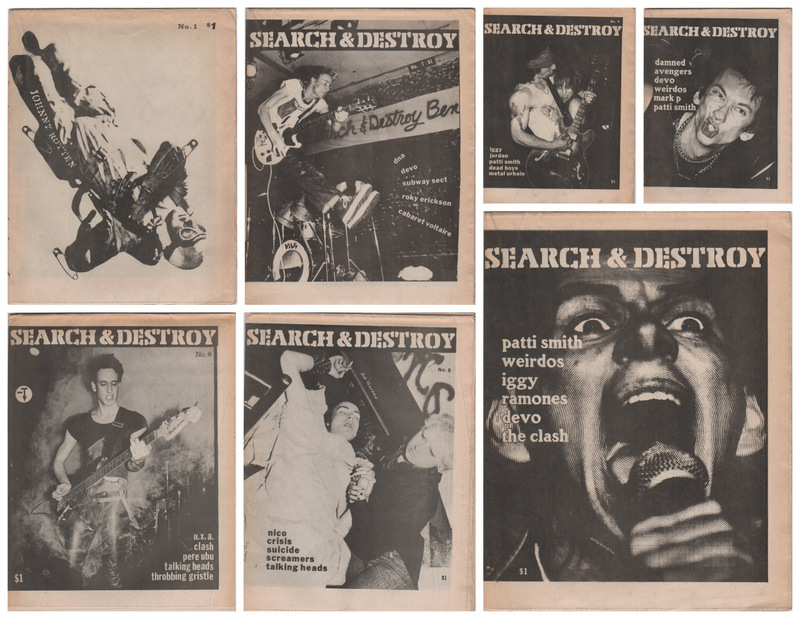 Complete run of "the most ambitious publication of the entire punk press" (Berniere & Primois 218). Founded by Vale Hamanaka while working at City Lights Bookstore and originally funded by Ferlinghetti and Allen Ginsberg, SEARCH & DESTROY was (according to Jello Biafra) "the greatest underground zine I've ever seen […] where the definition of punk rock was much wider" (quoted 219).
Named for the Stooge's anthem, SEARCH AND DESTROY remains one of the most important, vibrant, and influential periodicals to emerge from punk. Includes features, interviews, photos, and like from all the major (and many minor) punk figures in both the UK and US: Sex Pistols, The Ramones, Pere Ubu, Crime, Dead Kennedys, Patti Smith, Screamers, Clash, Throbbing Gristle, Buzzcocks, Talking Heads, Devo, Weirdos, and Suicide.
SEARCH AND DESTROY also served as a bridge between the punk scene and the literary/visual artists who both influenced and were influenced by punk: Ginsberg, Burroughs, Ballard, Acker, John Waters, David Lynch, Bruce Conner, Russ Meyer, and like.
Though the zine technically ceased publication with issue #11, it quickly morphed into RE/SEARCH, a magazine which ran for three issues in an identical format and with nearly identical concerns before evolving into a glossy annual.
An uncommonly complete run of this seminal punk zine.
[Triggs 46].
---
Tabloid on newsprint. All folded once, as issued. Very good or better with some typical toning and here and there. Occasional wear, chipping. Else a clean and sound set overall. Most issues 16-28pp. Issue #1 is the second state, lacking the red stamping. Else original first editions/printings all. Heavily illustrated throughout with B&W photographs. Housed in an archival Lineco box.