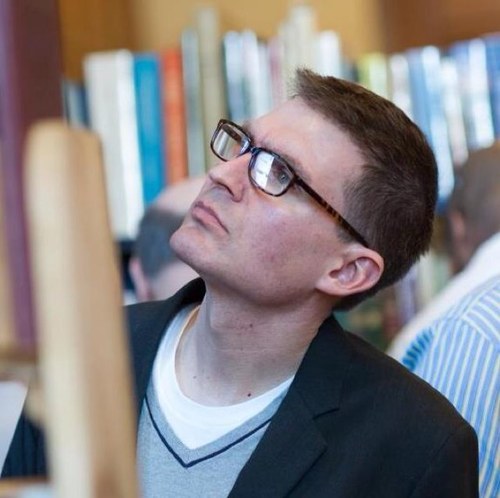 FOR IMMEDIATE RELEASE
SEATTLE & WASHINGTON DC–(BUSINESS WIRE)–April 1st, 2013–Amazon.com, Inc. (NASDAQ:AMZN), today announced that, subject to closing conditions, it has reached an agreement to acquire Brian Cassidy, Bookseller currently of Washington D.C. Brian Cassidy, Bookseller is a white, middle-aged caucasian male: 40 years old, five feet ten inches tall, and weighs approximately 165 pounds.
"As a tiny one-man bookselling operation, Brian Cassidy, Bookseller brings remarkably slow data entry and research skills, a nearly fruitless interest in the obscure and unusual, as well as a unique ability to procrastinate and waste time. Our customers worldwide will benefit," said Russell Grandinetti, vice president of books for Amazon.com.
"I am excited to join the Amazon family," said Cassidy on Monday, "where their worldwide reach, exceptional distribution, competitive pricing, and broad offerings will continue to render traditional bookselling obsolete."
Added Cassidy: "I'm just glad I got a piece of the action before it was too late."
Following the acquisition, the worldwide headquarters of Brian Cassidy, Bookseller will continue to be located in Silver Spring, MD – right down the street from the Greyhound bus station and nestled beside the United Towing impound lot.
The acquisition is subject to customary closing conditions, including regulatory approvals, and is expected to close before the end of the fourth quarter of 2013. Mr. Cassidy giddily described the purchase price as "in the low four figures."
About Amazon.com
Amazon.com, Inc. (NASDAQ:AMZN), a Fortune 500 company based in Seattle, opened on the World Wide Web in July 1995 and today offers Earth's Biggest Selection. Amazon.com, Inc., seeks to be Earth's most customer-centric company, where customers can find and discover anything they might want to buy online, and endeavors to offer its customers the lowest possible prices. Amazon.com and other sellers offer millions of unique new, refurbished and used items in categories such as books, movies, music & games, digital downloads, electronics & computers, home & garden, toys, kids & baby, grocery, apparel, shoes & jewelry, health & beauty, sports & outdoors, and tools, auto & industrial.
Amazon Web Services provides Amazon's developer customers with access to in-the-cloud infrastructure services based on Amazon's own back-end technology platform, which developers can use to enable virtually any type of business. Examples of the services offered by Amazon Web Services are Amazon Elastic Compute Cloud (Amazon EC2), Amazon Simple Storage Service (Amazon S3), Amazon SimpleDB, Amazon Simple Queue Service (Amazon SQS), Amazon Flexible Payments Service (Amazon FPS), and Amazon Mechanical Turk.
Amazon and its affiliates operate websites, including www.amazon.com, www.amazon.co.uk, www.amazon.de, www.amazon.co.jp, www.amazon.fr,www.amazon.ca, and the Joyo Amazon websites at www.joyo.cn and www.amazon.cn.
As used herein, "Amazon.com," "we," "our" and similar terms include Amazon.com, Inc., and its subsidiaries, unless the context indicates otherwise.
Amazon Forward-Looking Statements
This announcement contains forward-looking statements within the meaning of Section 27A of the Securities Act of 1933 and Section 21E of the Securities Exchange Act of 1934. Actual results may differ significantly from management's expectations. These forward-looking statements involve risks and uncertainties that include, among others, risks related to competition, management of growth, new products, services and technologies, potential fluctuations in operating results, international expansion, outcomes of legal proceedings and claims, fulfillment center optimization, seasonality, commercial agreements, acquisitions and strategic transactions, foreign exchange rates, system interruption, significant amount ofindebtedness, inventory, government regulation and taxation, payments and fraud. More information about factors that potentially could affect Amazon.com's financial results is included in Amazon.com's filings with the Securities and Exchange Commission, including its Annual Report on Form10-K for the year ended December 31, 2007, and subsequent filings.
CONTACT: Amazon.com Media Hotline, 206-266-7180.