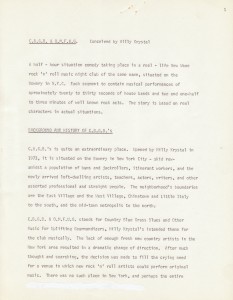 Here's something from a nearly forgotten corner of punk rock history. It's an original 22-page typescript treatment from about 1981 for a half-hour situation comedy centered around legendary punk nightclub CBGB's.
Let me say that again because even having held it in my hands it's kind of hard to wrap my mind around: a sitcom set in CBGB's.
I stumbled across it at the New York Antiquarian Book Fair in April and knew as soon as I saw it that I had to have it. I bought it with my colleague Ian Kahn, but unfortunately (or fortunately depending on how you look at it[1]), it sold before I had a chance to really enjoy it. But like an ornithologist (see footnote below), I wanted to record the sighting of this "rare bird."
The treatment was almost certainly penned by club owner Hilly Kristal, and on the one hand it may be one of the least punk items ever to come out his Bowery establishment. But it's not quite as ridiculous a concept as it sounds on first hearing. Reading the treatment, it's likely Kristal had in mind the success of other workplace comedies like TAXI. And I can imagine the pitch in that light: "It's TAXI with music." It's clear Hilly hoped to incorporate performances into the show, with different acts (no doubt recruited from the actual club) appearing each week. And considering this is the same year MTV debuted there is something rather clever and forward-thinking about the idea. Still, it's enough to make Sid Vicious roll over in his grave.
The typescript contains five 2-3 page plot summaries for proposed episodes. The titles of these explain clearly enough the path this show likely would have followed: "The New Burglar Alarm," "Susannah Forgets to Pay the Rent," "CBGB'S Vs. The Second Street Block Association," "The Runaway," and "CBGB's Recovers Stolen Equipment."
It appears not much ever came of Hilly's idea. A Billboard Magazine article from the time reports Kristal planned to play himself and that filming was to commence on July 23rd 1981. The first episode was allegedly set to air just a week later on local access cable ("We're awaiting syndication," Krystal explains optimistically). Describing (damning with faint praise?) the project as "the first rock 'n' roll situation comedy on cable television," the article goes on:
"There will always be a plot, though a simple plot" says Kristal. "It will be about what happens in the club, or what could happen. For instance, one could show the girl in charge of the day, busy with the sound checks and bands waiting to see me. I come in later. The one thing leads to another. Some of those waiting leave, some have too much to drink, some meet and make love. And then they realize they have been here for 12 hours and they still haven't seen me. Then there will be subplots."
Uh-huh.
I found no evidence that any episodes were actually produced or aired. And given Hilly's meandering synopsis and the program's rather naive production schedule, this is not terribly surprising. But while it may be easy to make fun of the idea or to dismiss it as an attempt to cash-in on punk's successes, there is something of punk's DIY spirit evident here, a certain innocent "just get out there and do it" vibe that is true to punk's origins[2].
Otherwise my guess is this is one of only a few (and possibly only) remnants of the show. OCLC turns up nothing similar among library holdings and a more detailed search of the major institutional collections of punk rock and the downtown scene failed to yield even a hint of this unusual endeavor. This has been remedied, however. As you read this, the typescript has found itself a perfect home at an appropriate special collections department. For internet posterity, I've scanned a selection of pages from the typescript to help give a better sense of what the sitcom might have been like:
And if anyone happens to know anything more about this project, please leave a comment or drop me a line.
KRYSTAL [Kristal], Hilly. C.B.G.B. & O.M.F.U.G.: A Half-Hour Situation Comedy. NYC: n.p., n.d. [ca. 1981]. First Edition. 4to. 22-page original typsescript with title sheet (on CBGB letterhead) in plain orange spring-clamp binder. Some lines deleted with white-out; one variant passage tipped to one page (old text legible beneath). Paperclip impression to first two and last leaves. Rust offsetting form spring-clamp to same. Else fine. If you're looking for the end of punk, this is it. Original treatment for TV comedy based on the legendary Bowery club that served as the cornerstone of the American punk rock scene. Conceived by Kristal (and apparently penned by him as well), this treatment described the cast of characters and the club, and provides plots for several potential shows (stolen equipment, a runaway, complaints from block association, etc.). Meant to resemble a workplace comedy like TAXI, but with music interludes from bands that made CBGB's famous (Ramones specifically mentioned in one episode). Though we find no record of any shows having been produced or aired, a 1981 Billboard article describes Hilly's plans for show which he hoped to begin airing on local cable and then expand to "syndication." OCLC finds no holdings. Punk is dead. Long live punk. -SOLD-
[1] A colleague I respect has compared dealing rare books to ornithology. Like birds, most of the books you see are rather ordinary and common, but what gets you excited and what keeps you going are the unexpected finds (or sightings), the rarities. Like the bird watcher, the dealer simply notes what they have and moves along. We do not keep what we find; we are not hunters. Collectors are hunters. Dealers catch and release, catch and release. It's a useful way of thinking about the business.
[2]If there's a video of this laying about somewhere god I hope someone will upload it to YouTube.