I've been neglecting this blog (again). The summer has just been crazy; traveling / vacation, family visits, daughter out of school and assorted other major and minor personal distractions have served to conspire to keep me from posted here. In between all of this confusion, I have managed to get some actual work done. Catalog #3 is in the works and will be available early Sept., hopefully in time for the Santa Monica Book Fair. I was also and very pleased and honored this month to be accepted into The Antiquarian Booksellers Association of America (ABAA). I would like to offer my sincere thanks to all of my sponsers: James Bryant and Mary Hill of Carpe Diem Fine Books here in Monterey, Tom Congalton of Between the Covers in New Jersey, and Kevin Johnson of Royal Books in Baltimore.
Now, for those handful of readers who've managed to stick around this long, some posts to look forward to in the coming days and weeks:
1) A book scouting report from my family's road trip up the Pacific Coast.
2) Why book scanners and those who rely on them will never uncover the best or most interesting book.
3) What "The Cask of Amontillado" is and why its a useful tool for booksellers.
4) An uncomfortably prescient picture I discovered in a magazine recently
5) Some great additions to my collection of unusual and interesting book inscriptions, including one I am unlikely to top anytime soon.
Hopefully, this is tantalizing enough to keep folks reading despite my recent and chronic case of blog neglect.
And until get around to these other posts, here's some of the results of my work in the shop yesterday. I spent most of the day culling books (read: getting rid of old and slow-moving stock) and redoing all of the book displays. Here's my display just in time for the upcoming political conventions: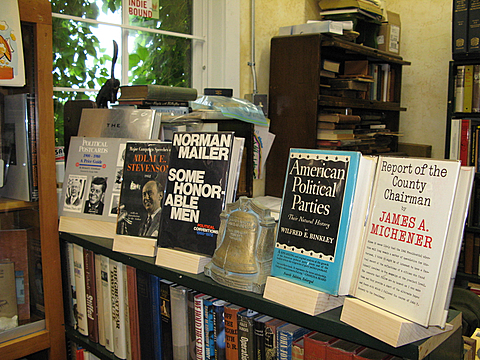 For those who've never been to my shop, my desk is right behind these shelves. Note the teetering piles of books. Probably should get to some of those…